The Finch Blog
Details

Written by

Jason Lowry
How To Improve AdWords Quality Scores
Improving your Google AdWords Quality Score is a great way to cut costs and improve conversions.
First, you have to understand how the AdWords algorithm ranks ads.
For a specific keyword, AdWords looks at the maximum CPC that all bidders are willing to pay.

Each ad has a Quality Score ranked 1-10 based on several factors, including number of clicks on an ad, landing page relevance, your account history, geographic location, and other factors that Google uses to rank your ads.

The Max CPC is multiplied by the quality score to get a rank. Positions are determined based on the order of this ranking.
Note that this doesn't determine how much you actually pay for the click, it only determines the position. The amount you pay is based on the rank of the position below you and your quality score (but that's for another post).
Less relevant ads pay more and score lower while ads with high Quality Scores result in higher placements at lower costs. Often, the top position will actually be paying much less for the top spot than the competitors, due to the Quality Score multiplier. That's why it makes so much sense to bid on your own branded keywords because you get them at a very low cost, while if your competitors bid on them it costs them a lot more due to the competitor's low Quality Scores.
So...how do you improve AdWords Quality Score?
Create targeted and relevant ads. The click through rate (CTR) of your ads is believed to be the number one factor in determining Quality Score. If your ad has thousands of impressions with few clicks, then it will typically have a low CTR. In order to improve your CTR, use the specific keywords in your ads along with a strong call to action. Use a competitive differentiator in your ads to set yourself apart from the other ads. Think like a customer: If I see 5 ads, which one would I click?

Finch's granular campaign structure isolates ads to match them with keywords, making it easy to see which ads/keywords have a poor click through rate. When you improve your ads that have the highest impressions and the lowest CTR, those small changes can have a high impact on the quality score with little effort.
Link your ads to credible and original content. Google prizes original content: If you are copying someone else's content, then someone else deserves higher scores. You should be the source of your own content. For example, on product pages rather than including the manufacturers description, try adding your own product description and thoughts about the product.
Don't create "junk" landing pages. Pages that don't add additional or relevant content will have high bounce back rates and will result in lower quality scores over time. Also, remember that Google AdWords is inherently linked to Google search - so legitimate pages should have already been successfully indexed by Google.
Select only relevant keywords. Bidding on irrelevant keywords is a sure-fire way to blow through your budget. Finch will expose these in your audit and show you a sampling of which ones are not effective. Also, Finch will drop or devalue non-performing keywords over time.
In short, rather than trying all the tricks, just spend some time tweaking the details, and you'll see big rewards in terms of improved Quality Scores.
Don't have enough time to improve AdWords Quality Scores across all campaigns on your own? Finch can help! Our proprietary technology optimizes every keyword for every product in real time, read more about how Finch can grow your search and shopping. Get Finched.
Details

Written by

Bryan Oram
This Monday Google AdWords made a huge change to ad positions. From now on, Google will display four ads on the top of the results page and three ads on the bottom. Google saw that the click-through rate of the side ads was poor so they will no longer display those side ads, limiting the number of ads from 11 to a mere seven. 
This will result in two major changes to the AdWords PPC market:
1. Competition will increase (price will follow) 
2. Data will drive growth
Google limited the supply of available Ad space, so the same amount of companies are now competing for less real estate, increasing competition. This will most likely impact pricing. As any economist will tell you, when supply is limited and demand remains the same, price increases. The same amount of companies are now competing for fewer positions, which means those willing to pay more could potentially have an advantage.  
But have no fear, Quality Score is here!
Google continues to rely on an Ad's Quality Score, in addition to the bid, to help determine the position of the Ad.  This means that the higher the click-through rate, the better the landing page, the more relevant the Ad is to the query, the better the match type, and the more ad extensions included in the Ad the higher that Ad's Quality Score will be. All this leads to a higher placement Google will give the Ad on the results page. This makes optimizing your AdWords campaign to increase Quality Score more crucial than ever if you want to compete for those top four spots!  
The only way to optimize utilizing all available data and acting on it in realtime from the search, from Google Analytics, and from your own conversion results (such as profits or lead quality determined from CRM data) is through a Programmatic approach. Programmatic advertising for AdWords is a massive competitive advantage and this change that Google has made to AdWords only increases that advantage. A programmatic approach (depending on the software utilized) is able to optimize for the end result. Essentially a company utilizing programmatic advertising solution is able to optimize for the end result, profit!  It can know whether the keyword is worth bidding for in the search and act on all compiled data in realtime.  
Finch is the global leader in Programmatic Advertising for Search and Shopping. Whether you're a company looking to dramatically increase your leads and their quality, or an e-Commerce company looking to increase profits from your search campaigns, Finch is the solution to grow.
Learn more about how you can build your advertising campaigns programmatically by getting a Free AdWords Analysis and Demo from one of our AdWords experts today! Get Finched.
Details

Written by

Bjorn Espenes
By now, you've heard the term "Programmatic Advertising," but what does it really mean? According to study done by Google the market describes it most frequently as:
Google defines programmatic advertising as:  
"The practice of using technology and audience insights to automatically buy and run an ad campaign in real time to reach the right consumer with the right message in the right context."
Originally limited to display advertising, programmatic can now be applied to more areas of digital advertising. Finch has built a game-changing technology that applies the same principles to both Search and Shopping advertising.
Why Does Programmatic Matter?
Imagine a potential customer opening their browser and starting to type int he search box. For each character they type, Google starts their auction process for which Ads to show and how to rank them.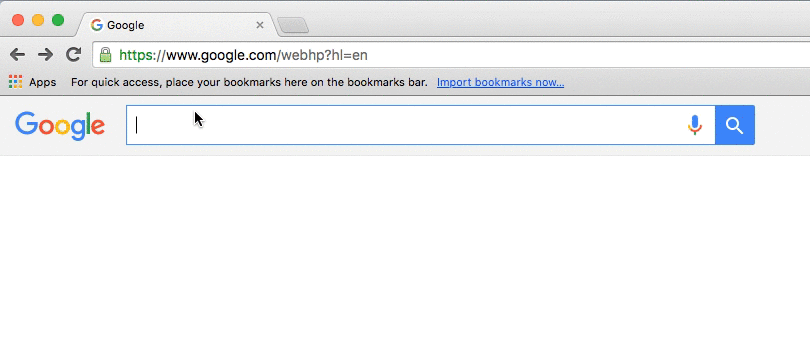 Google is very, very good at matching ads with those doing the search. They achieve this by utilizing all of their data and applying it in real-time. Real-time information gives the visitor the most relevant information and the best search experience. Google has done this programmatically since the beginning of AdWords over 15 years ago, and has increasingly gotten better. Ultimately, programmatically utilizing data drives quality, revenues and experience.
Imagine this scenario to profile the next click you are bidding on:
Exact match type of the keyword "hotels in park city utah"

This keyword historically produces $324 in profit per conversion

The conversion rate is 25%

The click comes from a desktop

The person doing the search abandoned a cart on your site yesterday
Would this have impact on how much you are willing to pay for that next click?  Of course it will!  Why?  Because the click you are about to bid on has been profiled in real time with all the data variables that builds the click profile. That click profile is compared with past performance metrics for each of the profile components to determine the value it has to you based on your financial objectives and constraints.
Being able to profile the next click you are essentially buying in real-time you can gage relevance, probability and value accurately. This mind-blowing level of accuracy is why Programmatic matters.  Accuracy equals less risk and enables the advertising budget to be firmly focused on clicks that are more relevant and profitable for you. 
When the potential customer starts typing into the Google search box and Google starts running the auction among the advertisers to decide which ad to put on top (80% of the clicks comes from the top 3 ads), most advertisers have set their bid a long time ago based on fixed, static, averages–the CPA model. The problem with the CPA model is that competitors are not static.  They change ad copy, bids, ad extensions, pricing, etc. and if your campaign is static it will get off track quickly.
Setting the bid real-time is game-changing! This is the biggest opportunity for progressive and savvy advertisers since AdWords first came about fifteen years ago.
Does it really work?
Need more proof? Here are a few case studies from our customers.
International seller of kitchen products: 84% increase in sales from auto created keywords (cost of revenues kept equal).
Large US Seller of Recreation Products: 48% increase in sales from Google Shopping (margin kept equal); isolating each PLA and building real time profiles for each click purchased.
Large US Seller of Jewelry: 44% increase in sales from Google Search campaign; isolating each search click purchased by match type, revenue/cost history, device searched from and audience profiling.
Global SaaS Company: 241% increase in lead volume from Google Search campaign; integrating with CRM system to enhance lead quality and isolating each click purchased by match type, cost per lead history, lead conversion rate history and audience profiling.  (Bonus: cost per lead was reduced by 41%). 
What Else Can Programmatic Advertising Do?
In addition to maximizing competitive advantage, there is an endless list of other advantages that can be created from Programmatically managing an advertising account, including:
The future is here and it's programmatic advertising.  
It's not a matter of IF you will be buying clicks programmatically, it's a matter of WHEN.
How Do I Get Programmatic?
Programmatic Advertising will change the advertising industry with accelerating speed.  Data models, attribution models, data quality and real-time data flow will allow those who utilize it to win. And win big.  Finch has a staff of 35 certified Google professionals who are fully immersed in what programmatic advertising is capable of producing for you.
---
 1: think.storage.googleapis.com/docs/the-programmatic-revolution_research-studies.pdf
Details

Written by

Laura Gutman
Ah, love is in the air!
We Finchers love Valentines Day. The chocolates, the romance, the slowly but surely increasing anxiety. "What do I get (insert name here)?" is a question we all ask around this time. Palms grow sweaty, heart rates increase, and as Valentines Day grows closer, so does our sense of impending doom.
But wait! There's that wonderful thing called "Google" to save the day. It can help you out for Valentines Day just like it does for every other search and shopping need. Many people will use Google to find the perfect gift. Some of these people are your potential customers.  Your customers are out there...searching. Help them find you! In the spirit of Valentines Day, think of your customer in terms of their "Romance Lifecycle." People use Google throughout their entire relationships: from first date, to finding the perfect engagement ring. 
Finch optimizes your AdWords to make sure you're always reaching the right consumers, and helping them find what they're searching for. Check out this amazing (and informative) infographic Google made about Valentines Day. I guarantee you'll learn something new, hint: you're really dropping the ball here, men. And as always, we are here for you. Optimize your AdWords, increase your profits. Happy Valentines Day!
Details

Written by

Kim Pratt
GLOBAL TECH COMPANY @FINCH MOVES INTO SUGARHOUSE
Salt Lake City, UT – Jan 11, 2016
The technology scene in Utah is growing at rapid speed. Many companies are going through hyper growth. Finch was the 4th fastest growing company in Utah in 2013 (Source: Inc 500). Salt Lake City is vibrant and rapidly attracting tech companies like Finch, LLC, a Search Engine Marketing (SEM) company, who recently moved its international Headquarters to the new offices just off of Wilmington Avenue and 1300 East in Sugarhouse
"It's amazing to be a part of the new growth in Sugarhouse. It's invigorating our team and giving new excitement for growing our business," says Finch CEO and Co-Founder Bjorn Espenes, "It just feels good to be here. It's a perfect match." 
To kick off the move, Finch is hosting Google for the first Google Partner Digital Breakfast of the new year. "It will be an amazing event, different from those that have been held before," says Dan Kimball, VP of Sales. "First, it's locals only. We really want to get integrated into the Utah business scene. Second, we have top of the line content to provide to those attending from both Google experts and Finch's CEO. Third, we're providing catering and valet parking for attendees. We're expecting a great turnout from our clients, partners and future clients in the greater Salt Lake area." 
February 19th marks another event for Finch, their celebratory open house. This event will include personal friends, business contacts, clients and partners who have had a part of building Finch. Bjorn says, "We're very happy to be a part of the growing tech boom in Salt Lake with an experienced team that is building a global company from our Sugarhouse HQ."
If you have inquiries about either the Digital Breakfast or the Open House, please contact Kim Pratt at This e-mail address is being protected from spambots. You need JavaScript enabled to view it. or call 855-275-7772.  
About Finch
Finch is headquartered in Salt Lake City, Utah; U.S.A. Finch is a global company with offices in the U.S., Europe, Australia and Asia. Finch manages AdWords programs to create optimal business growth for their clients using their proprietary programmatic advertising platform. Finch is a certified Google Partner and has 35 Google Certified Professionals on their team. Learn more about Finch at http://www.finch.com or through our official blog at http://finch.com/en/blog.
####